(2023 schedule may be listed on the events page).
November 14th, 2016 –
Interview with The Excellence Reporter- "What is the Meaning of Life?"
______________________________
Martha Anne Cassandra St. Claire Appears in Afterlife- What Happens When We Die
Paul Perry, the talented NY Times best-selling author and film maker, created this new documentary. I am in it, along with some fascinating and well known names in the near-death experience field, etc.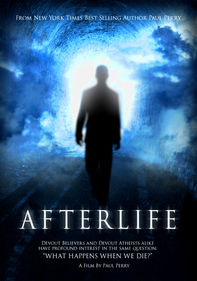 You can purchase it via:
http://www.paulperryproductions.com
or order it on Amazon:
http://www.imdb.com/title/tt3408818/
"The documentary begins with Perry interviewing people on the streets of Portland, Santa Monica, and New Orleans. From there he has in-depth interviews with leading authorities, Dr. Raymond Moody and Dr. Jeffrey Long. Finally, the film finishes with exceptional recounts by individuals who have had vivid Near Death Experiences. This is truly a remarkable work that provides the viewer with some different perspectives. The film may be the most important work on the subject produced to date. It must be seen."
"In the Realm of God"- My Near-Death Experience & More- (YouTube).
May 2008, at The Near-Death Experiencers' Retreat, near St. Louis, MO. Martha shares about her last amazing NDE, in brief, the wonder of the "after-life", and more. This video may bring inspiration, peace, and comfort, to your soul. Enjoy!

Ancient Prophecies III  – New Visions of The Future  (NBC)
http://www.youtube.com/watch?v=mfJdo6zu9zQ
Greystone Communications. Televised February 28, 1996. This program emphasizing prophecy and the coming "new age", including near-death experience prophecy, was intended to be more uplifting than earlier programs. Martha (AKA Cassandra Musgrave) and other prophetic NDEs were featured. (The program is available to rent on video tape through various metaphysical bookstores and on Netflix). Reruns on TLC, The Learning Channel.
Near-Death Website Featuring Martha (Also, see resource page).
http://www.near-death.com/stclaire.html
MEDIA ARCHIVE 
AM Northwest  (Portland, OR) April 1994
Martha and Dannion Brinkley discussed their NDEs with TV hosts and the audience.
HARD COPY  December 1994
Martha and other near-death experiencers were featured with delightful sensitivity.
Cosmopolitan Magazine  September 1995
"How Near Death Is A Near-Death Experience?"
A variety of scientists, researchers, authors, and near-death experiencers, including Martha,
are discussed by author Catherine Houck.
News Channel 8  (Portland, OR)
Reporter Kevin Roy's interview with Martha aired May 13-15, 1996, on the 5:00 PM evening news. It included portions of her near-death experience story, research, life work, and an April 1996, Portland, Oregon lecture. Other Portland near-death experiencers were also interviewed.
The National Enquirer  (previously projected press date was summer 1996)
Martha's NDE research, in abridged form, may be featured and discussed by science and medical reporter Reg Fitz in a forthcoming issue (using her name of Cassandra).
Life After Death  (Sleeping Giant Productions, Toronto) *
This ten-part series on the subject of life after death, hosted by Tom Harpur, was aired on
November 11-15 and 18-22, 1996, on Vision TV in Canada. Martha's interviews were shown as part of  "The Near-Death Experience" (Nov 11th) and "Visions of Heaven" (Nov 18th) programs. The series was an in-depth documentary on "life after death" from traditional and non-traditional religious and spiritual viewpoints. This series was also aired in 1997, on TLC in the USA and distributed internationally. *Look for future reruns.
The Journal of Near-Death Studies
The  results of Martha's NDE research project with Seattle, WA, Portland, OR, and Salt Lake City, UT, IANDS members was published in the Spring 1997 issue of this journal, through The International Association for Near-Death Studies, Durham, North Carolina, USA.
KVET-KASE Radio  1300 AM (Austin,TX)
Martha was interviewed live by talk show host, Joyce Issacs on March 21st and 24th, 1997.
Also on the program were Ed Salisbury and Dr. Cheryl Mackin, of the Austin, TX, FOI (Friends of IANDS) Chapter of the International Asso. of Near-Death Studies.The program included audience call-in comments & questions.
Channel 12 News  (Portland, OR)
The NDEs of Martha, Kim Sharp, and Tricia Ritchie were featured and explored on the 10 o'clock news, April 30-31, 1997.